Bremen's Winners in European Data Privacy
EuroPriSe – the European Privacy Seal – Goes to ProCampaign For the Second Time
Bremen, 19 June 2017 – For the second time already now after 2012, Consultix GmbH in Bremen has been awarded the European Privacy Seal (EuroPriSe). Its ProCampaign® marketing platform was certified with this trust mark once again. ProCampaign® is a customer engagement solution which administrates and manages 100 million customer profiles in 50+ countries for well-known companies around the world. The EuroPriSe certification authority praised above all its transparent communication regarding data protection issues as well as the sophisticated data privacy concept developed by the data specialists at Consultix. ProCampaign® users could be sure, they said, that they were complying with the applicable requirements as set down in the EU's General Data Protection Regulation (GDPR) when processing consumer data. ProCampaign® is currently the only customer engagement/CRM product to have been distinguished with the European Privacy Seal.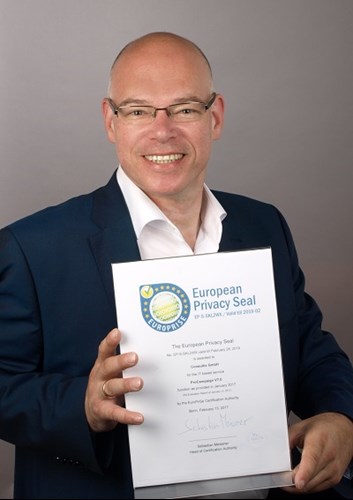 Andres Dickehut, CEO Consultix GmbH
"We are very pleased that we have fulfilled the EuroPriSe certificate's high standards once again. With ProCampaign®, we can offer our clients a safe haven for their data that allows the risk managers of multinationals to sleep peacefully at night when an internal or external audit is on the cards", says Andres Dickehut, CEO of Consultix GmbH, commenting on his product's certification. "We integrated those data privacy requirements into our software as a solution (SaaS) from the very outset with which other CRM and infrastructure providers are now confronted as a result of new legal and political developments." This means that ProCampaign® satisfies, for example, the General Data Protection Regulation which will enter into force on 25 May 2018. From then on, firms will have to pay up to four percent of their annual turnover if they breach the regulation.
EuroPriSe is a base currency for European data privacy. Its goal is to foster consumer protection and citizens' rights as well as deepen consumers' trust in IT. The seal signals to consumers that certified companies process their personal data in line with existing EU data privacy legislation. Certification is a route consciously pursued by Consultix GmbH. That is why ProCampaign® was also the only CRM system to be awarded, alongside EuroPriSe, the seal of approval of the Independent Centre for Privacy Protection Schleswig-Holstein (ULD), which is known for its impartiality.  
ProCampaign® enables you to manage, enhance and protect your customer profiles and deliver consistent, orchestrated and cross-channel experiences.
ProCampaign proves again that a privacy-compliant use of CRM systems is possible

Sebastian Meissner, Head of the EuroPriSe Certification
Stay informed and subscribe to our ProCampaign® Newsletter. This way you will be up-to-date about all news, promotions, events and webinars around ProCampaign®.