ProCampaign at "Zeitung Digital 2018"
ProCampaign Is On a Distinct Course Towards GDPR With Its Certified Secure Customer Engagement Hub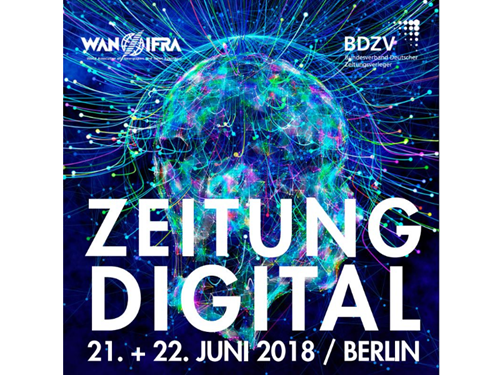 Bremen, Juni 2018. The newspaper industry is experiencing turbulent times, not least as a result of the General Data Protection Regulation and upcoming changes to e-privacy guidelines. This year's 18th industry meeting "Zeitung Digital 2018" will bring together around 300 publishers, managing directors, publishing and digital managers for networking. GDPR-compliant subscriber marketing and legally compliant digital offerings will certainly be on the agenda. In order to present practical solutions at this point and to reduce legal uncertainties, the IT and marketing service provider Consultix is taking part in the event for the first time with its marketing automation software ProCampaign. Consultix is regarded as a technology leader in the field of data protection-compliant management of personal data.
Mastering Digital Challenges
Centralized, privacy-compliant data enrichment, a focus on customer loyalty and agile omnichannel campaign management - with this combination of functions, the marketing and CRM system convinces internationally operating companies and brand managers. The hub manages customer profiles, behavioral data, interests, e-commerce data and more in a master database and enriches it with every digital interaction. With ProCampaign, publishers and digital managers are on safe ground: As the only marketing and CRM tool, the product has been awarded twice the prestigious European Privacy Seal (EuroPriSe). Consultix is ISO 27001-certified, passed the ISO 27018 audit with flying colors and can look back on more than 20 years of expertise in development competence and data protection. In addition, its own high-security data center ColocationIX makes all customer data digitally and physically invulnerable. The data fort Knox is located in a former nuclear shelter in Bremen.  
Focus On Subscribers: Marketing In the Tension Between Personalisation and Data Protection
ProCampaign's privacy-by-design approach ensures that data protection is included in its product DNA right from the start. "Our software guarantees data protection-compliant digital marketing in publishing for example through permission text management, i.e. the legally compliant administration of all consent and legal texts. Thus, the temporary version of the consent given by the customer or subscriber is available in the hub for each profile. This and other features make it easier for the publisher to master new challenges in the handling of personal data, for example in fulfilling the obligation to provide information," explains Jörn Bittner, Sales Manager Consultix GmbH.
Visit us at the "Zeitung Digital 2018" on 21-22 June 2018 at the Sheraton Berlin in Germany. We are looking forward to inspiring discussions!
About ProCampaign
ProCampaign is the secure customer engagement hub of the Bremen based company Consultix GmbH. The digital marketing software is the only solution on the market to have been awarded the European Privacy Seal (EuroPriSe) and is thus the answer to the General Data Protection Regulation (GDPR) of all EU member states. Renowned international companies use this platform-based product for customer communication and management as well as campaign management to support well over 100 million customer profiles in more than 50 countries.
ProCampaign® enables you to manage, enhance and protect your customer profiles and deliver consistent, orchestrated and cross-channel experiences.
ProCampaign proves again that a privacy-compliant use of CRM systems is possible

Stefan Meissner, Head of the EuroPriSe Certification
Stay informed and subscribe to our ProCampaign® Newsletter. This way you will be up-to-date about all news, promotions, events and webinars around ProCampaign®.