ProCampaign Icebreaker: Bridge for Online Captains
New version of Secure Customer Engagement Hub impresses digital marketers with intuitive cockpit in new design and campaign supporting features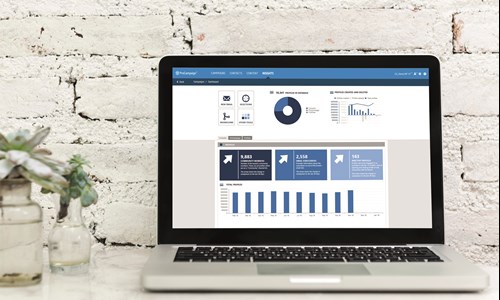 Bremen, 14th January 2019. Bremen-based software provider Consultix starts the new year with the rollout of the latest version of its customer data management and marketing automation platform ProCampaign. With Icebreaker, the manufacturer meets the two essential requirements of future-oriented, agile digital marketing: Resource-saving, customer-centric campaign control and appreciative enhancement of First Party Data.
Digital home port
The comprehensive customer data platform ProCampaign stands out from the crowd with its short innovation cycles. To keep up the pace in e-commerce and omnichannel marketing, the team regularly launches new features, that evolve in sync with changing customer behavior and omnichannel trends. Icebreaker provides the complete feature keyboard in a new user-friendly design and uses this hub to prepare marketers both technically and conceptually for future challenges in digital marketing. "ProCampaign offers all options to continuously test, steer, optimize and evaluate campaigns on an operational level", says Andres Dickehut, CEO of Consultix GmbH. "With the new central frontend, we offer our customers an existential overview. In parallel, our API ecosystem ensures that the integration of data from other sources is very easy."
Under the main menu structure, users now find the five areas Campaigns, Contacts, Content, Insights and Settings:
Campaigns: Efficient management of all campaign-relevant information and all automations
Contacts: Implementation of deep target group selections as well as import and export of customer-relevant profile data
Content: User-friendly area for creating e-mails, mobile messages and landing pages with new template editor
Insights: Comprehensive analysis functions and validation of KPIs for clear determination of campaign success
Settings: Overview of all brands and users including their roles
Channel and customer knowledge on the radar
Icebreaker uses the marketing employee as captain, who keeps the customer journey on track by closely accompanying his customers and thus strengthens brand loyalty. The completely new Insights area, which provides real-time access to relevant KPIs and analysis data, supports him in this. This continuous monitoring of a campaign's progress via multivariate analyses and statistics enables quick and well-founded decisions that have a bearing on product management and sales beyond marketing. In the content area, users can expect an intuitive template designer with which they can create their own HTML templates and building blocks, which they can then drag and drop into e-mails and landing pages. The user can also create an image gallery for each brand, from which he or she can draw for various templates. ProCampaign uses intelligent machine learning functions such as Best Send Time Optimization to ensure that mailings and messages reach the customer at the optimum individual time.
"Due to the large amount of data and the resulting complexity, marketing departments need adaptive tools that can develop and conserve employee resources," says Andres Dickehut, summing up his experience. "ProCampaign Icebreaker contributes to the marketing success of a brand by storing valuable customer data in a central system, enriching and managing it in compliance with data protection regulations." 
About ProCampaign
ProCampaign is the secure Customer Engagement Hub of Consultix GmbH based in Bremen. The digital marketing software is the only solution on the market to bear the European Privacy Seal (EuroPriSe) and is thus the answer to the Basic Data Protection Regulation (DSGVO) in Germany and to the General Data Protection Regulation (GDPR) of all EU member states. In November 2018, the platform was awarded the renowned eco://award 2018. Renowned international companies use this platform-based product for customer communication and management as well as campaign management to support well over 100 million customer profiles in more than 50 countries.    
ProCampaign® enables you to manage, enhance and protect your customer profiles and deliver consistent, orchestrated and cross-channel experiences.
ProCampaign proves again that a privacy-compliant use of CRM systems is possible

Stefan Meissner, Head of the EuroPriSe Certification
Stay informed and subscribe to our ProCampaign® Newsletter. This way you will be up-to-date about all news, promotions, events and webinars around ProCampaign®.