New ProCampaign Functionalities: Speed and Convenience In Omnichannel Marketing
The Secure Customer Engagement Hub Extends Its Range of Features by Introducing New Content Editors and a Revised Preview Mode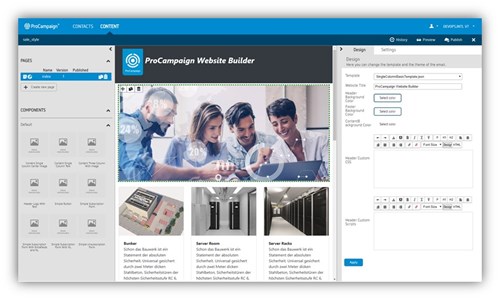 Bremen, July 2018. The marketing and CRM system ProCampaign grows with its challenges. The developer Consultix is committed to meeting the requirements of the digital marketing industry through short innovation cycles. While the first rollout in 2018 focused on data protection features, the new features in this July rollout are aimed at creating targeted Omnichannel marketing campaigns quickly and easily.
Personal Content Is Still King
In ProCampaign's campaign module, marketers create individualized campaigns that have a long-lasting effect on customer loyalty thanks to fine segmentation options, multiple orchestration possibilities as well as multivariate analysis and optimization functions. At the heart of every campaign is the compelling content. With the new ProCampaign Site Editor, it lands quickly on responsive landing pages via drag & drop. Users add individual website components and edit the content quickly and easily until everything fits. Whether a sweepstake invitation, sampling campaign, event registration or whitepaper download - this way, the marketer has the complete range of up-to-date measures at his disposal. By personalizing the website or landing page with profile data, purchases, product data, ratings and recommendations, the user-friendliness for the customer also increases. In addition to efficient workflow, this also plays a leading role in the new ProCampaign Mobile Message Editor. In this intuitive editor, users can create SMS messages and other mobile messages on request in no time, thus reaching their customers via all relevant channels at the best possible time.

Examining Glances
Final testing of email design is an important part of campaigns that often costs marketers valuable time. This is where the new ProCampaign email preview mode shows its talent. It facilitates and shortens the pre-flight check before the final dispatch by simply calling up the preview. Users select the clients and devices to be checked and within a few minutes see screenshots of the e-mail as they are displayed on the various devices.
ProCampaign® enables you to manage, enhance and protect your customer profiles and deliver consistent, orchestrated and cross-channel experiences.
ProCampaign proves again that a privacy-compliant use of CRM systems is possible

Sebastian Meissner, Head of the EuroPriSe Certification
Stay informed and subscribe to our ProCampaign® Newsletter. This way you will be up-to-date about all news, promotions, events and webinars around ProCampaign®.