Lieblingstasche.de: A Success Story from the Outset.
The Bag Lover's Favorite Thanks to ProCampaign®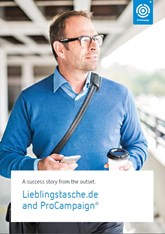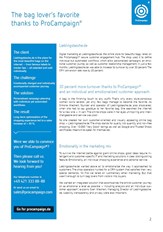 Digital marketing at Lieblingstasche.de, the online store for beautiful bags, relies on the ProCampaign® Secure Customer Engagement Hub. The shop used it to define individual but automated workflows, which allow personalized campaigns, an emotional customer journey as well as customer relationship management. In just a few months, Lieblingstasche.de was able to increase its turnover by over 30 percent. The CRM conversion rate rose by 20 percent.
ProCampaign is intuitive to use and opens up countless possibilities to upgrade our e-commerce, such as our next best offers, by means of integrated business intelligence.

Sven Wiechert, CEO of Lieblingstasche.de
Read the entire case study now!
ProCampaign® enables you to manage, enhance and protect your customer profiles and deliver consistent, orchestrated and cross-channel experiences.
ProCampaign proves again that a privacy-compliant use of CRM systems is possible

Sebastian Meissner, Head of the EuroPriSe Certification
Stay informed and subscribe to our ProCampaign® Newsletter. This way you will be up-to-date about all news, promotions, events and webinars around ProCampaign®.